Published in: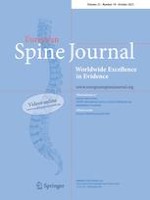 Open Access 18-06-2023 | Original Article
Comparative study of outcomes between allograft intervertebral disc transplantation and anterior cervical discectomy and fusion: a retrospective cohort study at least 5 years of follow-up
Published in: European Spine Journal | Issue 10/2023
Login to get access
Abstract
Purpose
Adjacent segment degeneration (ASDeg) after anterior cervical discectomy and fusion (ACDF) seriously affects the long-term efficacy of the operation. Therefore, our team has done a lot of research on allograft intervertebral disc transplantation (AIDT) to prove its feasibility and safety. This study will compare the efficacy between AIDT and ACDF in the treatment of cervical spondylosis.
Methods
All patients who received ACDF or AIDT in our hospital from 2000 to 2016 and followed up for at least 5 years were recruited and divided into ACDF and AIDT groups. The clinical outcomes including functional scores and radiological data of both groups were collected and compared preoperatively and postoperatively at 1 week, 3 months, 6 months, 12 months, 24 months, 60 months and last follow-up. Functional scores included Japanese Orthopedic Association score (JOA), Neck Disability Index (NDI), Visual Analog Scale of Neck (N-VAS) and Arms (A-VAS) pain, the Short Form Health Survey-36 (SF-36) and imaging dates including digital radiographs in the lateral, hyperextension and flexion positions to assess the stability, sagittal balance and mobility of the cervical spine and magnetic resonance imaging (MRI) scans to assess the degeneration of adjacent segment.
Results
There were 68 patients with 25 in AIDT group and 43 in ACDF group. Satisfactory clinical results were obtained in both groups, but the long-term NDI score and N-VAS score in the AIDT group were better. The AIDT obtained the same stability and sagittal balance of the cervical spine as fusion surgery. The range of motion of adjacent segments can be restored to the preoperative level after transplantation, but this increases significantly after ACDF. There were significant differences in the superior adjacent segment range of motion (SROM) between two groups at 12 months (
P
 = 0.039), 24 months (
P
 = 0.035), 60 months (
P
 = 0.039) and the last follow-up (
P
 = 0.011). The inferior adjacent segment range of motion (IROM) and SROM had a similar trend in the two groups. The ratio value of the greyscale (RVG) of adjacent segments showed a downward trend. At the last follow-up, the RVG decreased more significantly in the ACDF group. At the last follow-up, there was a significant difference in the incidence of ASDeg between the two groups (
P
 = 0.000). And the incidence of adjacent segment disease (ASDis) is 22.86% in the ACDF group.
Conclusion
The allograft intervertebral disc transplantation may be as an alternative technique to traditional anterior cervical discectomy and fusion for the management of cervical degenerative diseases. For the more, the results showed it would improve cervical kinematics and reduce the incidence of adjacent segment degeneration.