Published in: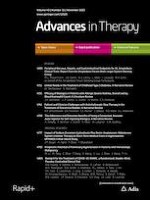 Open Access 22-09-2023 | Original Research
The Epidemiology of Palmoplantar Pustulosis: An Analysis of Multiple Health Insurance Claims and Electronic Health Records Databases
Published in: Advances in Therapy | Issue 11/2023
Login to get access
Abstract
Background
Palmoplantar pustulosis (PPP) is a chronic inflammatory condition characterized by sterile pustules on the palms and soles. This study evaluated the epidemiology of PPP using claims and electronic health record (EHR) databases.
Methods
Patients coded for PPP in the United States (US) and Japan from 2016 to 2020 were identified. Several PPP definitions were evaluated; the specific definition (≥ 2 visits coded for PPP, the second 31–730 days after diagnosis) was chosen for characterizing PPP epidemiology. Baseline characteristics and pre- and post-diagnosis treatments were summarized. Prevalence and incidence rates were analyzed by calendar year, sex, age, and database.
Results
Prevalence and incidence of PPP were higher in Japan than the US. PPP prevalence increased over time. PPP occurred predominantly in adulthood and was more common among women. Features of metabolic syndromes, anxiety, and depression were more common among US PPP patients. Consistently high baseline use of anti-bacterial, anti-inflammatory/anti-rheumatic, and obstructive airway disease treatments was observed among PPP patients. Potential miscoding or misclassification of PPP limited this analysis. Prevalence estimates from databases may differ from field- and population-based approaches.
Conclusions
The burden of PPP was greater in Japan than in the US. Additional studies are needed to further elucidate PPP epidemiology worldwide.