Published in: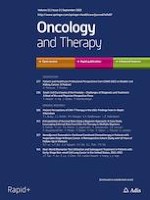 Open Access 18-06-2023 | NSCLC | Original Research
Real-World Biomarker Test Utilization and Subsequent Treatment in Patients with Early-Stage Non-small Cell Lung Cancer in the United States, 2011−2021
Published in: Oncology and Therapy | Issue 3/2023
Login to get access
Abstract
Introduction
Biomarker testing is increasingly crucial for patients with early-stage non-small cell lung cancer (eNSCLC). We explored biomarker test utilization and subsequent treatment in eNSCLC patients in the real-world setting.
Methods
Using COTA's oncology database, this retrospective observational study included adult patients ≥ 18 years old diagnosed with eNSCLC (disease stage 0–IIIA) between January 1, 2011 and December 31, 2021. Date of first eNSCLC diagnosis was the study index date. We reported testing rates by index year for patients who received any biomarker test within 6 months of eNSCLC diagnosis and by each molecular marker. We also evaluated treatments received among patients receiving the five most common biomarker tests.
Results
Among the 1031 eNSCLC patients included in the analysis, 764 (74.1%) received ≥ 1 biomarker test within 6 months of eNSCLC diagnosis. Overall, epidermal growth factor receptor (
EGFR
; 64%), anaplastic lymphoma kinase (
ALK
; 60%), programmed death receptor ligand 1 (PD-L1; 48%), ROS proto-oncogene 1 (
ROS1
; 46%), B-Raf proto-oncogene (40%), mesenchymal epithelial transition factor receptor (35%), Kirsten rat sarcoma viral oncogene (29%), RET proto-oncogene (22%), human epidermal growth factor receptor 2 (21%), and phosphatidylinositol-4,5-bisphosphate 3-kinase catalytic subunit alpha (20%) were the 10 most frequently tested biomarkers. The proportion of patients undergoing biomarker testing rose from 55.3% in 2011 to 88.1% in 2021. The most common testing methods were Sanger sequencing for
EGFR
(244, 37%), FISH (fluorescence in situ hybridization) for
ALK
(464, 75%) and
ROS1
(357, 76%), immunohistochemical assay for PD-L1 (450, 90%), and next-generation sequencing testing for other biomarkers. Almost all the 763 patients who received the five most common biomarker tests had a test before the initiation of a systemic treatment.
Conclusion
This study suggests a high biomarker testing rate among patients with eNSCLC in the US, with testing rates for various biomarkers increasing over the past decade, indicating a continuous trend towards the personalization of treatment decisions.