Published in: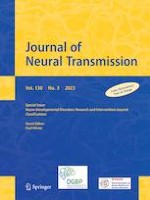 Open Access 17-02-2023 | Psychiatry and Preclinical Psychiatric Studies - Original Article
Growth rates of human induced pluripotent stem cells and neural stem cells from attention-deficit hyperactivity disorder patients: a preliminary study
Published in: Journal of Neural Transmission | Issue 3/2023
Login to get access
Abstract
Attention-deficit hyperactivity disorder (ADHD) is a neurodevelopmental polygenic disorder that affects more than 5% of children and adolescents around the world. Genetic and environmental factors play important roles in ADHD etiology, which leads to a wide range of clinical outcomes and biological phenotypes across the population. Brain maturation delays of a 4-year lag are commonly found in patients, when compared to controls of the same age. Possible differences in cellular growth rates might reflect the clinical observations in ADHD patients. However, the cellular mechanisms are still not elucidated. To test this hypothesis, we analysed the proliferation of induced pluripotent stem cells (iPSCs) and neural stem cells (NSCs) derived from male children and adolescents diagnosed with ADHD and with genetic predisposition to it (assessed using polygenic risk scores), as well as their respective matched controls. In the current pilot study, it was noticeable that NSCs from the ADHD group proliferate less than controls, while no differences were seen at the iPSC developmental stage. Our results from two distinct proliferation methods indicate that the functional and structural delays found in patients might be associated with these in vitro phenotypic differences, but start at a distinct neurodevelopmental stage. These findings are the first ones in the field of disease modelling of ADHD and might be crucial to better understand the pathophysiology of this disorder.